The widest range of well-know n products from Kochi are available here (more than 600 kinds)! Locally sourced foods, confections, sake and coral jewelry―as a beautiful token for your trip, or for your friends and family, find a special souvenir which you can get only in Kochi, and at BIG SUN.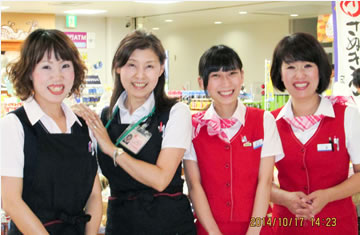 Product lines


RAINBOW is located at the gate lounge and offering you some quick meals and drinks, as well as beer! Y ou can still enjoy the small time before departure, by looking around some special products, which they carefully selected for your last minute shopping.
Product lines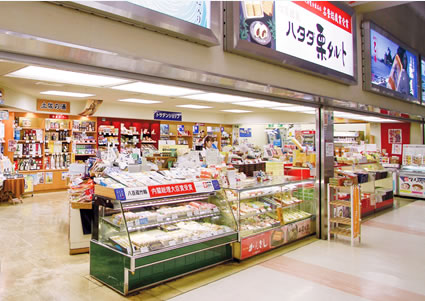 You can choose from a variety of well-known confections and other famous products in Kochi, such as Grilled bonito, locally made seasonings, Kamaboko (Fish cake), and local sake! Stop by at TOSADEN SHOP to find quality of souvenirs, with beautiful packaging and the reasonable price.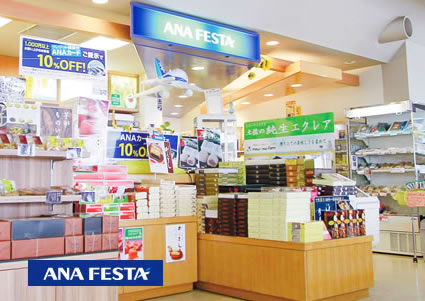 ANA FESTA is a small shop and a stand-up café located at the gate lounge. In addition to well-known products from Kochi for souvenirs, we also offer some light meals such as sandwiches and S abazushi (sushi with grilled mackerel). Don't miss the sweets we offer only at this shop!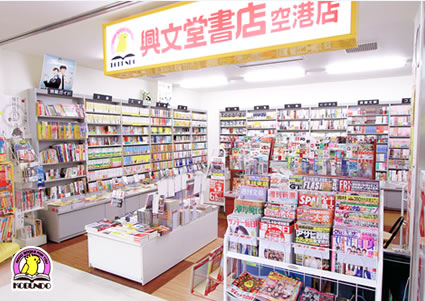 KOBUNDO delights customers with a range of merchandise; novels, comics, magazines and of course, the best sellers. "Yosakoi- Dokuhon", which has tons of information on the famous festival in Kochi, can be a great choice for your souvenir. You can also find many products of Anpanman, the famous "anime", whose author was born and grew up in Kochi.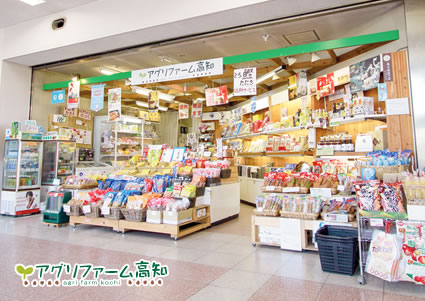 AGRI FARM KOCHI offers a variety of fresh local products, such as juicy fruits and vegetables including Buntan and Konatsu(citrus), Japanese pear and "Fruit tomatoes" (sweet fresh tomatoes). You can also find some small things you need on the way, like pens and lighters, and of course, attracting souvenirs!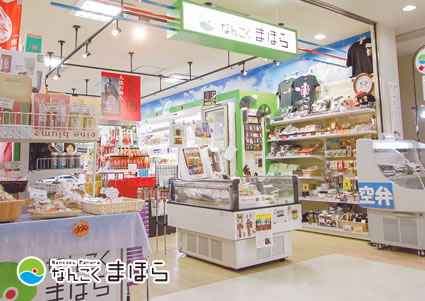 We might have something special you are looking for. Our items are all collected from Nankoku-city (where this airport stands in) and the carefully selected products satisfy even the Kochi-experts! Our delicious bento-box with a variety of local food, "Sora-ben", is also something you should try.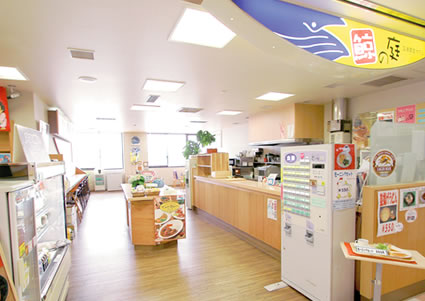 Self-service café with a variety of light-food menus. Try our famous Ryoma udon (Japanese udon-noodle topped with deep fried fish cake), and Yataro bukkake udon with Yuzu flavor, the most popular menus at our restaurant! Other menus, such as Japanese curry and Omurice are al so good and reasonable. You can charge your mobile phones here while enjoying your meal (charge).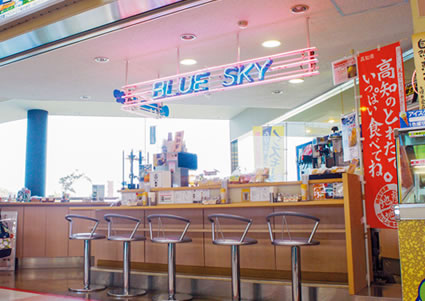 BLUE SKY is conveniently located at the departure lobby and welcoming travelers into the bright, spacious café space with the inviting smell of their freshly roasted coffee. Our original drinks with locally produced fruits are also worth a try. You can enjoy some confectioneries like madeleine and doughnut, as well as freshly baked bread from a famous shop in Nangoku-city in the morning.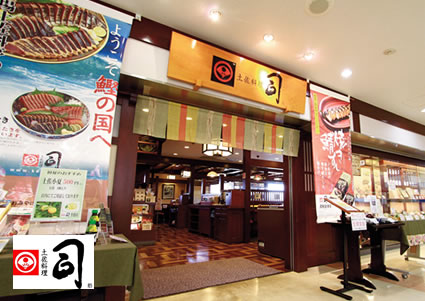 Tsukasa is renowned for its local cuisine of Tosa (Kochi), which has branches in Kochi, Tokyo, and in Osaka. As well as the local delicacies like Dorome, Shuto, and locally brewed sake, you can also enjoy set meals, udon-noodl es and Japanese curry. We also offer a delivery service within Japan for some of our products, such as K atsuo no tataki (lightly roasted bonito) and Sabazushi (sushi with grilled mackerel).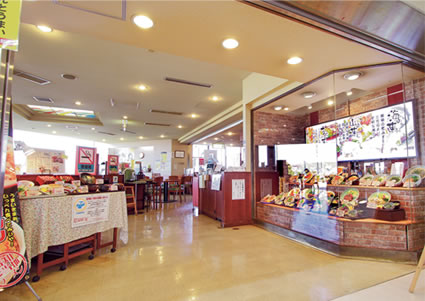 The bright space with the large windows makes it a perfect place to enjoy your meal with your friends, family, and also alone. W e offer light meals, set meals, drinks, and also the traditional cuisine like Tosa-beef and the locally raised chicken, Hachikin-jidori". If you like Ramen-noodles, don't miss the chance to try ours, which you can eat only in Kochi!