Passengers who need to book/purchase flight tickets and/or to reserve seats, as well as those who need to check-in your baggage, please go to the airline counters on the first floor.
※Passengers who have already purchased tickets and reserved seats, and also do not need to check-in your baggage, can directly go to the security check area on the second floor.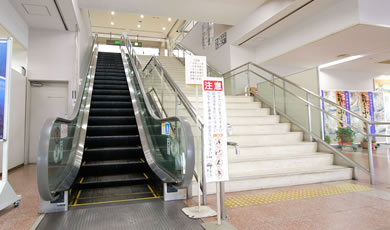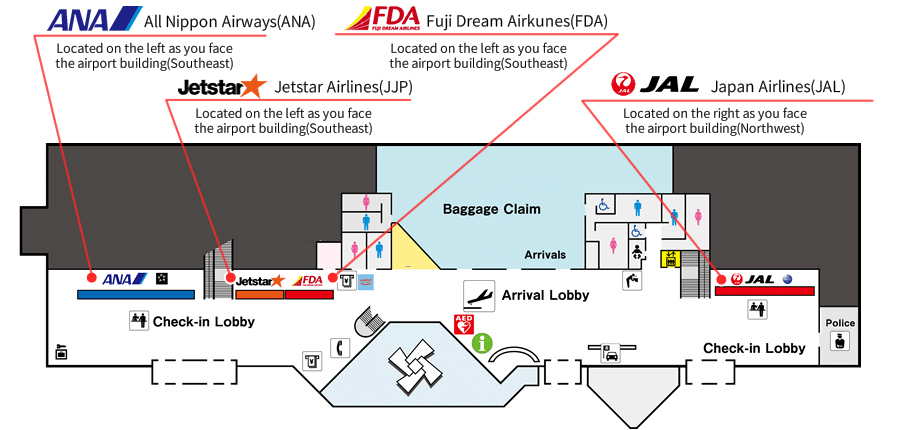 About Check-in Baggage

・To ensure the safety and comfort of your flight, please make your check-in baggage including your valuable items as small as possible.
・Any sharp/pointed objects, such as scissors and knives, or items that can be used as offensive weapons are strictly prohibited by law to carry on board. Please pack them in your check-in baggage.

・Please take care not to lose the baggage claim receipts that you receive at baggage check-in. You are going to need it when claiming your baggage on arrival!
・Other passengers might have exactly same baggage as yours. Please make sure to make your baggage stand out by tying a handkerchief or key chains to reduce the risk of baggage mix-up.

The carry-on baggage and other personal items you have with you will be scanned.
Please remove metal items from your bag and yourself, and place them in the provided baskets to speed up the process.
You may be asked to let screening officers check the content, when you have pet-bottles or any other containers with liquid.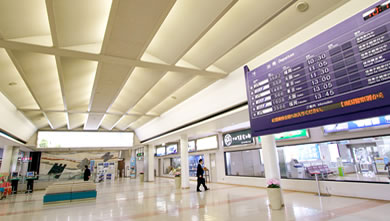 ・Items that are often detected at security screening
Smart phones, cellular phones, wallets, accessories, belts, watches, stationeries, glasses, cameras, portable audio players, shoes, and boots. It makes the process faster, when you remove these items and place them in the provided basket before going through the metal detector.

・About lighters
Explosive items, fireworks, or other flammable items are prohibited from both carry-on and checked baggage. Passengers are allowed to carry a cigarette lighter per person, except cigar lighters, oil lighters, pistol shaped lighters. Please note that you may be asked to surrender these products, according to the regulation.

On departure time, aircrafts must be ready to start moving and therefore it is possible that the gates are closed when you are late on time. For smoother boarding, we may ask you to go on board in an order. We appreciate your cooperation and thank you.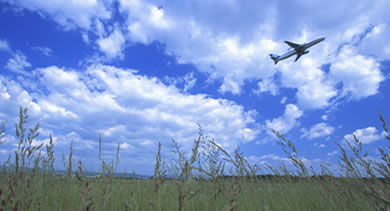 After your flight has landed, please make sure you have left nothing behind and disembark the aircraft following the staff. If you have checked baggage, go to the baggage claim before going out of the arrival area. It takes about 10 minutes until the baggage carousel starts and your baggage start to come out. Please note: You cannot come back into the baggage claim area once you proceed into the arrival lobby.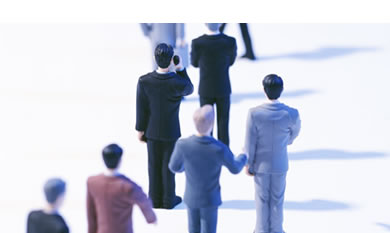 Please double-check the numbers on your baggage claim receipts if they match with those on your checked baggage. Keep it until you get out of the baggage claim area.


Proceed out of baggage claim area to the arrival lobby. If you have anybody pick you up, the arrival lobby is the perfect place for meeting up.