The widest range of well-know n products from Kochi are available here (more than 600 kinds)! Locally sourced foods, confections, sake and coral jewelry-as a beautiful token for your trip, or for your friends and family, find a special souvenir which you can get only in Kochi, and at BIG SUN.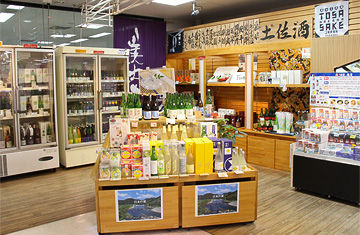 Product lines


ICHIBA offers a wide variety of attractive and delicious products of Kochi.
Blessed with rich nature, Kochi Prefecture is a treasure trove of delicious ingredients. At ICHIBA, visitors will be able to purchase specialty products of Kochi, including fresh vegetables and fruits.
According to the season, we offer specialty products and items that are popular among the locals of each area within Kochi Prefecture, from Otsuki town in the west to Toyo town in the east. Don't forget to stop by at our takeout area, where we offer beverages and light meals unique to Kochi, including coffee, draft beer, fruit smoothies, hat-shaped bread and country style sushi.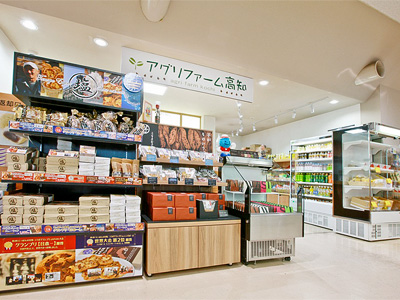 Located within the departure lounge, Agri Farm Kochi Gate Store has a selection of products ranging from carefully selected seasonal fruits, major souvenir goods and rare products that can only be purchased here.
We sell chocolate-covered sweet potato chips, a popular seasonal product, as well as offering a delivery service for fresh katsuo tataki, seared skipjack tuna that was caught that morning.
We also have draft beer and coffee for passengers waiting to board their flight.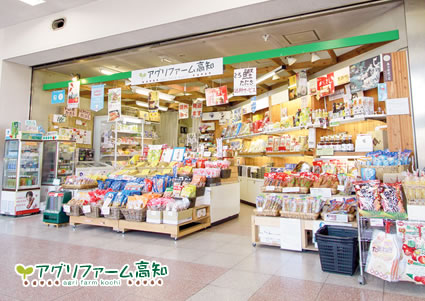 AGRI FARM KOCHI offers a variety of fresh local products, such as juicy fruits and vegetables including Buntan and Konatsu(citrus), Japanese pear and "Fruit tomatoes" (sweet fresh tomatoes). You can also find some small things you need on the way, like pens and lighters, and of course, attracting souvenirs!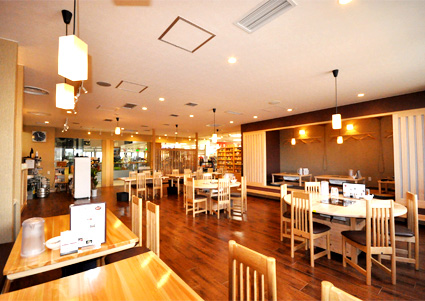 We are devoted to serving high-quality seasonal ingredients such as freshly dried fish from the Pacific Ocean, vegetables grown by farmers living near the airport and harvested each morning, and Kochi brand rice and meat.You can grill them as you like to enjoy Kochi' seasonal tastes. A Japanese-style private room is available (reservation required) for groups of up to 16 people so that you can also have fun as a group.
Fish, vegetables, and other ingredients used at the restaurant are displayed in the showcase and available for purchase. Books related to Kochi and children's picture books are displayed and sold in the adjoining book section. Please check them out.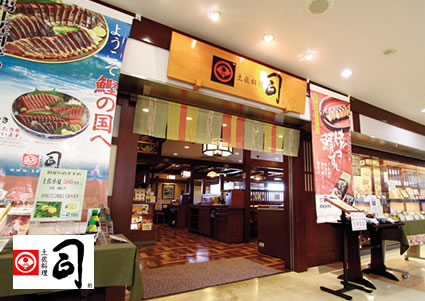 Tsukasa is renowned for its local cuisine of Tosa (Kochi), which has branches in Kochi, Tokyo, and in Osaka. As well as the local delicacies like Dorome, Shuto, and locally brewed sake, you can also enjoy set meals, udon-noodl es and Japanese curry. We also offer a delivery service within Japan for some of our products, such as K atsuo no tataki (lightly roasted bonito) and Sabazushi (sushi with grilled mackerel).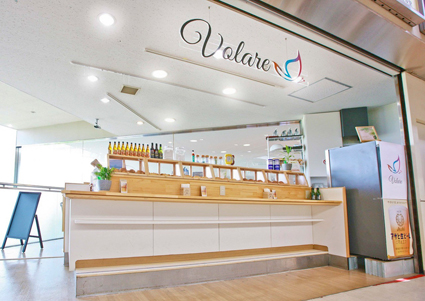 Before boarding your flight, relax for a while to enjoy a drink and a snack at Volare.
Using an authentic espresso machine and specially selected coffee beans, we serve superior, high-quality coffees and lattes that do not compromise on taste.
For those customers who are feeling peckish, we also have hot dogs, cornetto pastries, and cream puffs created in collaboration with our local store in Kochi.